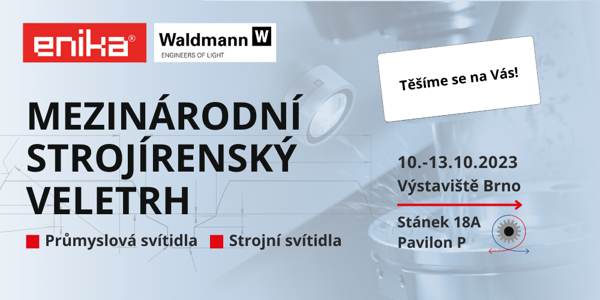 Vážení partneři a přátelé,
s radostí vás zveme na tradiční Mezinárodní strojírenský veletrh v Brně, který se uskuteční od 10. do 13. října 2023. Tato prestižní událost se stává každým rokem centrem pozornosti pro odvětví strojírenství a průmyslového inženýrství, a letos to nebude jinak.
Společně s naším partnerem, renomovaným německým výrobcem osvětlení WALDMANN, budeme mít tu čest představit vám svítidla navržená speciálně pro obráběcí stroje, kontrolní pracoviště a antistatická prostředí. To vše uvidíte na našem stánku č. 18A v pavilonu P.
V případě zájmu o volnou vstupenku nás kontaktujte na emailu: marketing@enika.cz
Těšíme se na setkání s vámi!
Vaše
ENIKA.CZ